BWL's Journey to the Falcon Project
Posted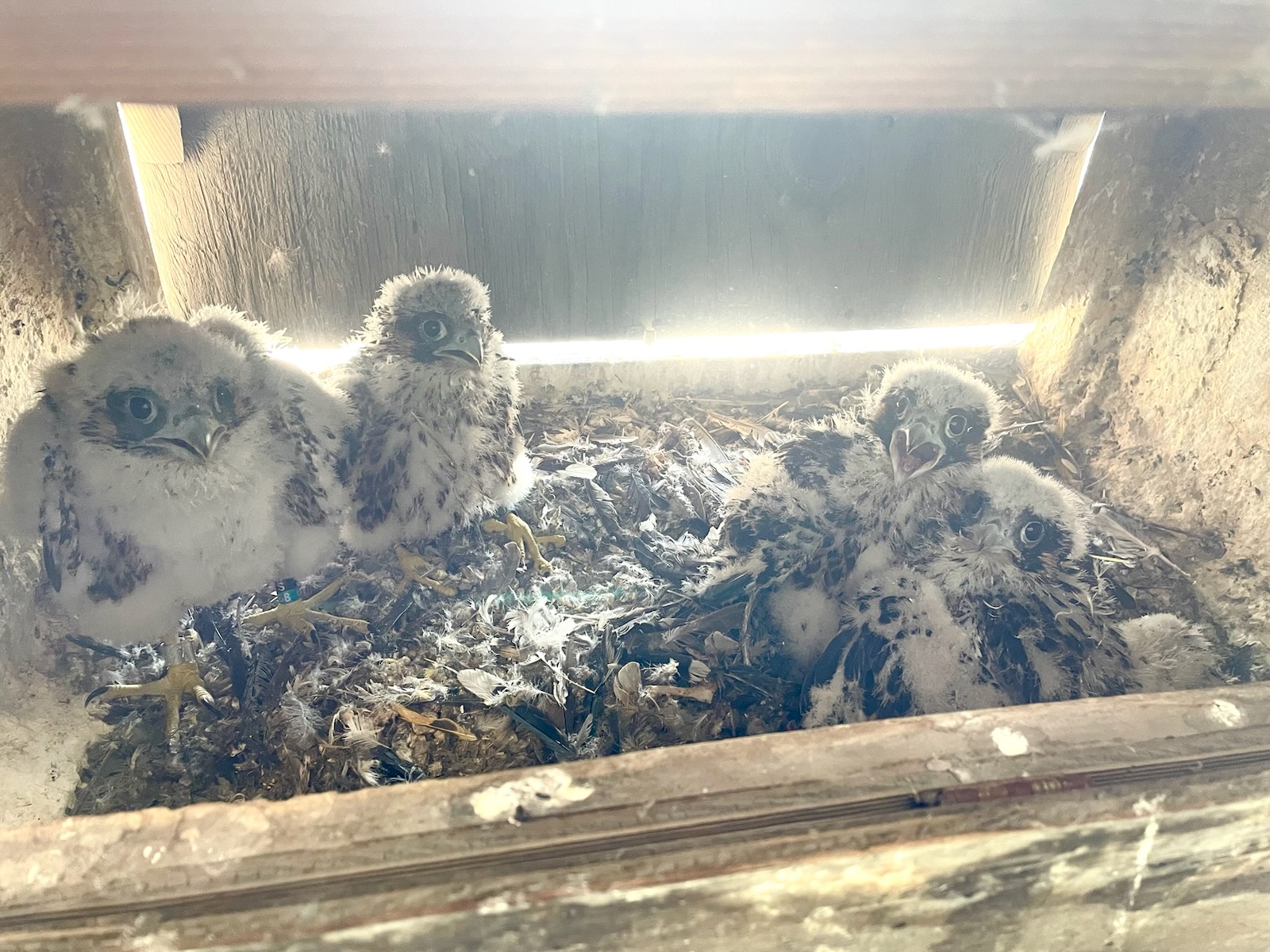 Peregrine falcons are a fascinating species—they can spot a meal up to a mile away, mate for life and return to the same nest year after year, plus they're also the fastest bird on record, catching prey in flight! Unfortunately, they've long been on the endangered list in the United States, including Michigan. So, when BWL heard there were a pair of falcons at Eckert in the early 2000s, we knew we had to help.  
The BWL and peregrine falcons go back to 2004, and we've come a long way since our first two chicks fledged.  In 2008, we built a nesting box and started a program, "Pennies for Peregrine," with the help of Moores Park Elementary students to raise money for webcams to put up and watch them. We've been able to share our beloved falcons with anyone and everyone ever since! 
Flash forward to 2023, peregrine falcons are coming off the endangered list, moving down to threatened, and we're glad to be even a small part of that. This year, not only did we have four babies hatch at our Eckert plant, but we also had a pair of falcons take up a nest at our Erickson plant, hatching four babies of their own for the first year ever! This year we had six males—Fred, Thomas, Sailor, Icon, Flash and Turbo, and two female babies—Sarah and Artemis.  
Being a nesting site for peregrine falcons is much more than just providing a home for them. We're able to make sure they stay safe while our power plants provide a comfortable space for them to learn survival skills from their parents without being harmed. 
Ever since the Peregrine Falcon Program was created at BWL, a community has evolved. BWL employees watch the falcon cameras every year, and we even have viewers, near and far, who stay up to date through our social media and online forums.  
Since becoming a nesting site for these falcons, they've also found a home at Michigan State University – keeping the 5-mile radius they need to be to mate. You could say Lansing has become a hotspot for them! 
Read more information on our website and check out the 24-7 live cams here: https://www.lbwl.com/community/falcon-cam.