Plug-In Electric Vehicles (PEV)
Return to Programs
The Lansing Board of Water & Light has always been a leader in adopting new programs, and we are ready to support our customers who are interested in adopting an electric vehicle and electric vehicle charging infrastructure.
Whether you are ready to go electric with your personal Hometown Ride, you want to make sure your employees and customers have Hometown Charge options at your place of business, or you are interested in learning more about electric vehicles and charging infrastructure in general, BWL has a plug-in electric vehicle (PEV) program for you! Do you have questions about electric vehicles or EV charging stations? Contact EVprogram@lbwl.com.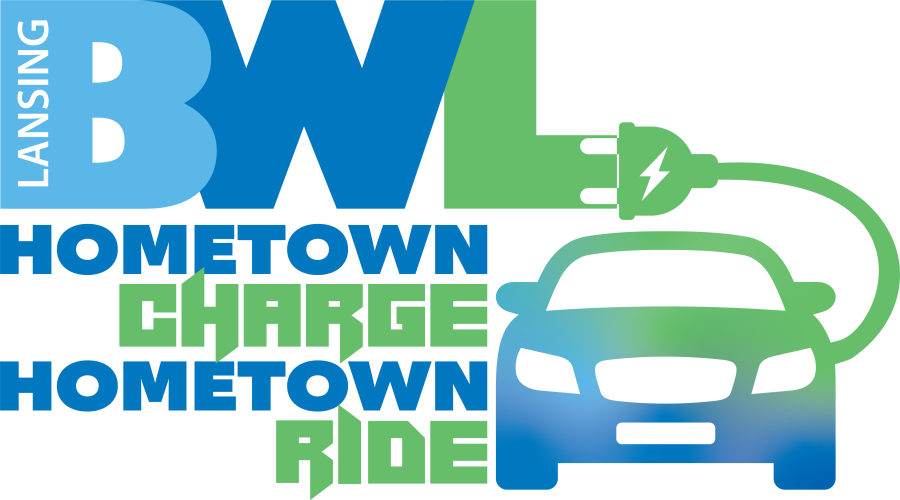 Residential Electric Vehicle Charging Incentive Program
BWL Residential Electric Vehicle Charging Program provides rebates to help offset the costs associated with the installation of home charging stations.
There are two levels of residential charging rebates available:
Commercial Electric Vehicle Charging Incentive Program
BWL is interested in helping support our commercial and industrial customers that want to install electric vehicle charging stations for their employees, their customers, and/or the public. BWL's Commercial Electric Vehicle Charging Rebate has now moved from a pilot program to a full incentive, and is available on a first come, first serve basis. Funds are limited, contact BWL today!
Qualified commercial BWL customers can earn a $4,500 Rebate per electric vehicle charging station, up to 3 stations per location, by meeting the following requirements:
Install a Level 2 charger-

"Level 2 Charging" means providing 208 – 240 volt single phase alternating current energy to an onboard charger of an electric motor vehicle with a maximum current specified at maximum 80 continuous amps,

BWL is not providing rebates for direct current fast charging (DCFC) electric vehicle charging stations at this time,

Are a current BWL electric service customer in good standing,

Charger(s) align with current electrical system infrastructure requirements and the customer schedules the necessary inspections through BWL.

Meet the requirements of the Commercial Electric Vehicle Rebate Application – please see below for full requirements and necessary documentation.
Contractor Agreement
Please review the steps below to become an approved contractor of BWL EV Programs.
Contractor Steps for Installing a Rate 22 service (the following steps apply only for the $1,000 rebate option for a hardwired charger and second meter):
Contact the BWL to set up a preinstallation walk-down at the customer's home.

Once at the site:

We will discuss your installation plan,

Gather customer information: name, phone number and last 4 digits of Social Security Number,

Verify that the charging station is hardwired compatible,

Verify vehicle make and model,

Verify location where the charger will be installed.

BWL Engineer will fill out the Service Application and Load Form and send it to the contractor for verification. The contractor will then have the customer sign the Service Application, once all information is verified,

Once all documents are signed and approved, the contractor will send back the documents to the BWL Engineer for processing and the generation of a Service Order Number (SO#),

Once the Service Order Number is generated, the BWL Engineer will send the contractor the information needed to give to the Code Compliance Officer for a release,

Contractors can then pick up their required Metering Equipment from the BWL Metering Department at 1232 Haco Dr, Lansing, Michigan. The contractor must bring the appropriate Load Form stating what equipment will be picked up,

Contractor will need to call the BWL Planning Department to schedule a TAP OFF/TAP ON, so that the Meter Enclosure(s) can be installed.  BWL will not re-energize a circuit until Code Compliance has "Green Stickered" the service. The Planning Department phone number is 517-702-6317, which is also stated on the Load Form,

Once the service has been re-energized, the contractor must notify the BWL Engineer that the installation has been completed and approved by Code Compliance,

The contractor must also contact the BWL Engineer to coordinate a Final Inspection,

Once the BWL Engineer approves the installation, they will submit their Engineering Notes for processing,

Once the Engineering Notes are processed, a release will be submitted to BWL Metering to schedule a Meter Set,

The customer can now complete the Electric Vehicle Charging Rebate Application associated with the Rate 22 meter installation and apply for the appropriate rebate.
Note:  The BWL Engineer will be looking at the loading profile of the customer's Distribution Transformer.  If for any reason the Distribution Transformer will need to be upgraded, the Meter Set for the Customer's charging station will be put on Hold.  This "Hold" is until the distribution circuit is corrected for the additional loading.
Contractor Steps for Installing a Plug for an EV Charging Station (the following steps apply only for the $500 rebate option for EV charging stations that are not hardwired and associated with a second Rate 22 meter):
Contact the BWL to setup a preinstallation walk-down at the customer's home,

The BWL Engineer will evaluate the loading on the customer's transformer before the installation of the charging station's outlet and purchased charger

Note: If the outlet was to be energized and used for electric vehicle charging and the BWL infrastructure is damaged specifically due to the charging of the electric vehicles, the customer will then be responsible for all costs associated with repairing the system.

Once the BWL provides  approval for the installation and usage of the charging station outlet and associated charger, the contractor's installation can begin,

Once the installation has been completed and "Green Stickered" by Code Compliance, the Contractor must contact the BWL Engineer to coordinate a final inspection,

Once the final inspection is complete, the customer is required to call BWL Customer Service and enroll their account in the Off-Peak Savers (RESTOU) rate

Call 517-702-6006 and ask to enroll your residential account in the Off-Peak Savers rate

The customer can now complete the Electric Vehicle Charging Rebate Application associated with the Off-Peak Savers rate and apply for the appropriate rebate.
Below is a list of independent contractors who have reviewed and agree to the BWL process for installing an EV charger and Rate 22 meter. If utilizing a contractor not on this list, please ensure they have reviewed and understand the required steps for proper installation.
Maximo Contracting LLC
Monica Murray
6256 Gardenia Ave.
Lansing, MI 48911
maximo120-240@hotmail.com
517-819-5251
B&D Electric, Inc
Stephen Hannahs
7606 Northport Drive
Lansing, MI 48917
ashleybdelectric@hotmail.com
517-322-0252
Livingston Energy Group, LLC
2345 Maxon Rd Ext
Schenectady, New York 12308
funding@solution.energy
518-691-3119
State Electric Company
Todd Villarreal
15045 Dixie Hwy
Holly, MI 48442
Toddv@statecontractingus.com
248-757-7945
Absolute Environmental Solutions LLC
Absolute Solar
4063 Grand Oak Dr. Ste. A107
Lansing, MI 48911
info@absolutesolarpower.com
517-580-5840
As customers install charging stations to charge their electric vehicles, their electricity bills will increase. We can help! BWL offers a wide variety of Energy Waste Reduction programs as well as additional offerings to help customers save money and energy.
If you require additional assistance, please contact BWL at:
EVProgram@lbwl.com for residential EV charging questions, information on BWL EV rebate programs, or general electric vehicle questions.
UtilityServices@lbwl.com for commercial EV charger installations that may require a new service, or to inquire about service upgrades/modifications to support EV charging infrastructure.